Description
Virgo Vs The Zodiac is a sci-fi/fantasy JRPG inspired by the Mario and Luigi RPG series and the Mother RPG series in which you play as an obsessed villain. The game features traditional turn-based combat with real-time execution of moves: blocking, countering and timing your attacks carefully as well as predicting your foes' moves is essential to succeed in Virgo's twisted and unforgiving cosmic quest to bring back the Golden Age, a period of peace, symmetry and balance, or so she thinks. In this galaxy where every action means a reaction, you'll play as Virgo, the Holy Queen, often called Dreadful Queen by heretics, bringing mayhem to the Zodiac Realms and leaving a trail of stardust on the way, all to fit her excessively righteous worldview.
History
Moonana is a small indie game developer with a love for unique JRPGs and RPGs such as the Devil Survivor Saga, Disgaea, Earthbound, the Shin Megami Tensei series, the Mario RPGs and OFF. Nana, the creator of Moonana, started to work on games in 2016 participating in jams, and finished some little titles. Moonana started its first commercial title, Virgo Vs The Zodiac, development in January, 2017, with a full release in december, 2019. Development of Moonana's newest title, Keylocker | Turn Based Cyberpunk Action, started in march, 2020.
Features
A unique turn based combat system featuring timed-actions and counterattacks that favors a balance of offense and defense, rewarding a deliberate mind and swift fingers.
No Random Encounters: Every fight is a unique challenge designed specifically for you.
A focus on exploration with multiple endings: There are many people, places, and items to see among the stars, and each interaction could be the one that determines your fate!
Zodiac Memories: Peer behind the veil to explore the backstories of the Zodiacs!
Take the Dangerous Route and fight off the Space Reptiles in an optional Action Filled Shoot'em Up Minigame!
And most importantly: Riding Alpacas!
Logo & Icon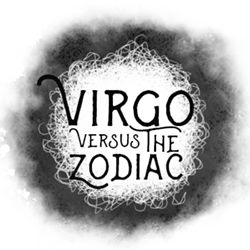 Awards & Recognition
"RPGamer.com - Most Overlooked 2019" Virgo Versus the Zodiac is certainly one of last year's hidden gems. It deserved far more attention than it has received, perhaps due to hitting in the quieter December period. RPGamer managed to get a review out for launch, and some others have joined in sharing love for the game, so it seems word has gotten out to at least some of the RPG fans out there, but nowhere near as much as it really should have.
"RPGamer.com - Michael A. Cunningham Memorial Award" With so many RPGs being released nowadays, it can be tough to stand out, but Virgo Versus the Zodiac does a fine job of doing so. It deserves all of the love it has received so far, and more. It is fully deserving of more attention from the gaming sphere, and we hope to give it some with this award.
"RPFan.com Editors' Awards 2019 - Neal Chandran" This delightful RPG is the complete package, with adorable graphics, incredibly fun gameplay, a wonderfully wacky storyline, and some of the best music and sound design I've heard this year. Seriously, this game's music made me put down my controller and go grab my bass guitar to try and play along to my favorite tracks. I can't give much higher praise than that.
"RPFan.com Music of the Year 2019 Editors' Favorites - Marcos Gaspar's Music of the Year" We are constantly submerged in a deluge of new games each year, whether from indie or major developers. Because of this, there's always a chance that something might slip right through our hands and into the realm of the unknown. With this plaguing my mind constantly, I try my best to share some of these little pearls. This year, I was pleasantly surprised with Elektrobear and Procrastinating's music on this game, as Neal Chandran in his review of the game has also enthusiastically stated.
Selected Articles
Any game where the music makes me immediately drop my controller, grab my bass guitar, and play along to learn my favorite pieces is something special.

Neal Chandran, rpgfan.com

Virgo Versus the Zodiac is clearly inspired by other titles like the Mario RPGs and Undertale but its unique humor and stellar writing help it stand apart.

Austin Fern, gamingtrend.com

Virgo Versus the Zodiac does a fine job of standing out from the crowd. Its ideas and characters remain engaging throughout, aided by the highly enjoyable music and varied designs.

Alex Fuller, rpgamer.com
About Moonana
Boilerplate

Moonana is a indie game development studio created by Nana. Virgo Vs The Zodiac, a timed-actions turn-based JRPG, is Moonana's first commercial project, launched in december, 2019. Moonana's newest project is on the works, called: Keylocker | Turn Based Cyberpunk Action.

More information

More information on Moonana, our logo & relevant media are available here.
Virgo vs the Zodiac Credits
Contact
Inquiries

Twitter

Virgo Vs The Zodiac Twitter

Youtube

Tumblr